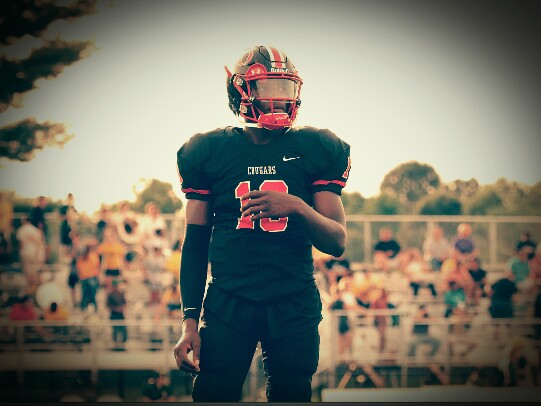 Athlete Spotlight: A Conversation with Quince Orchard HS Quarterback Doc Bonner (PHOTO)
Quince Orchard High School junior, Doc Bonner helped to lead the Cougars football team to the state finals for the first time in four years this season. While hopes were high for the Cougars, the championship game held on a bitter cold December night did not end well for the team, who lost the game 42-7 to the Wise Pumas.
It was an especially rough night for Bonner, who took a hard hit in the second half and had to be airlifted to University of Maryland Shock Trauma Center to be treated for a concussion. Bonner is now home and recovering well and is hoping to start training again soon. MyMCMedia got in touch with Bonner to discuss his thoughts about this season, the championship game, his injury, and future plans.
What it was like playing for the state title this year?
"It felt really good to be able to get there to be able since not being there since 2012. Just being able to make it [even though we] didn't get the result that we want..but just being there being able to be on that stage it felt really great to be up there with my brothers and just to make it there basically."
The Pumas dominated most of the game. What do you think went wrong? What do you think the Cougars did right?
"You know we made several mistakes, turnovers including myself," Bonner said. He noted that if those mistakes weren't made, the game would've been much closer. "But you know mistakes happen, we didn't get the result we wanted, but we definitely plan on being back next year," he said.
"We just kept fighting, no matter what the score was we just kept fighting," Bonner said. "We knew we had a chance to regain so we just kept fighting and I think that's what we did right. We just kept going," he said.
You took a pretty hard hit in the second half of the game and had to be taken off the field in the stretcher. Where were you taken and What injuries did you sustain? How are you recovering?
"I was taken to University of Maryland Shock Trauma. I was airlifted there. I sustained a concussion," Bonner said.
He said the recovery process has been long and that he is following concussion protocol. The week after the game, Bonner stayed at home and was limited to how much screen time he had. "Can't do much with a concussion got to follow protocol, just been sitting here reading some books researching colleges and everything," he said.
Bonner said the community support following his injury has been amazing. "The people in this community…they're just one of a kind. The support and the love I get is amazing and it's been great so far," he said.
Overall the season for the Cougars was really strong. What are your thoughts on this season?
"This season was a great season. This is a band of brothers that no one could ever break up. We played for each other, we played next to each other and it's just love and bond. I'm [going to] miss this team, I'm gonna truly miss this team. Overall it was a great season…and now we're going to prepare for next season."
So, what's next for Bonner? His future looks bright, he was recently invited to compete in the 2017 National Combine at the U.S. Army All-American Bowl. Bonner said he will not be competing in that competition this year due to his injury, but  said "it's a great honor to be invited to it for sure." For now, he hopes to start quarterback training again to prepare for next year.
Congrats to @docbonner_8 who was invited to this very elite event !!! #QOpride pic.twitter.com/yGpwbVP5e6

— Quince Orchard Fball (@QO_FOOTBALL) December 13, 2016
I love this team man❤️️?? pic.twitter.com/2GRQf6QN2M

— Doc Bonner (@docbonner_8) December 12, 2016