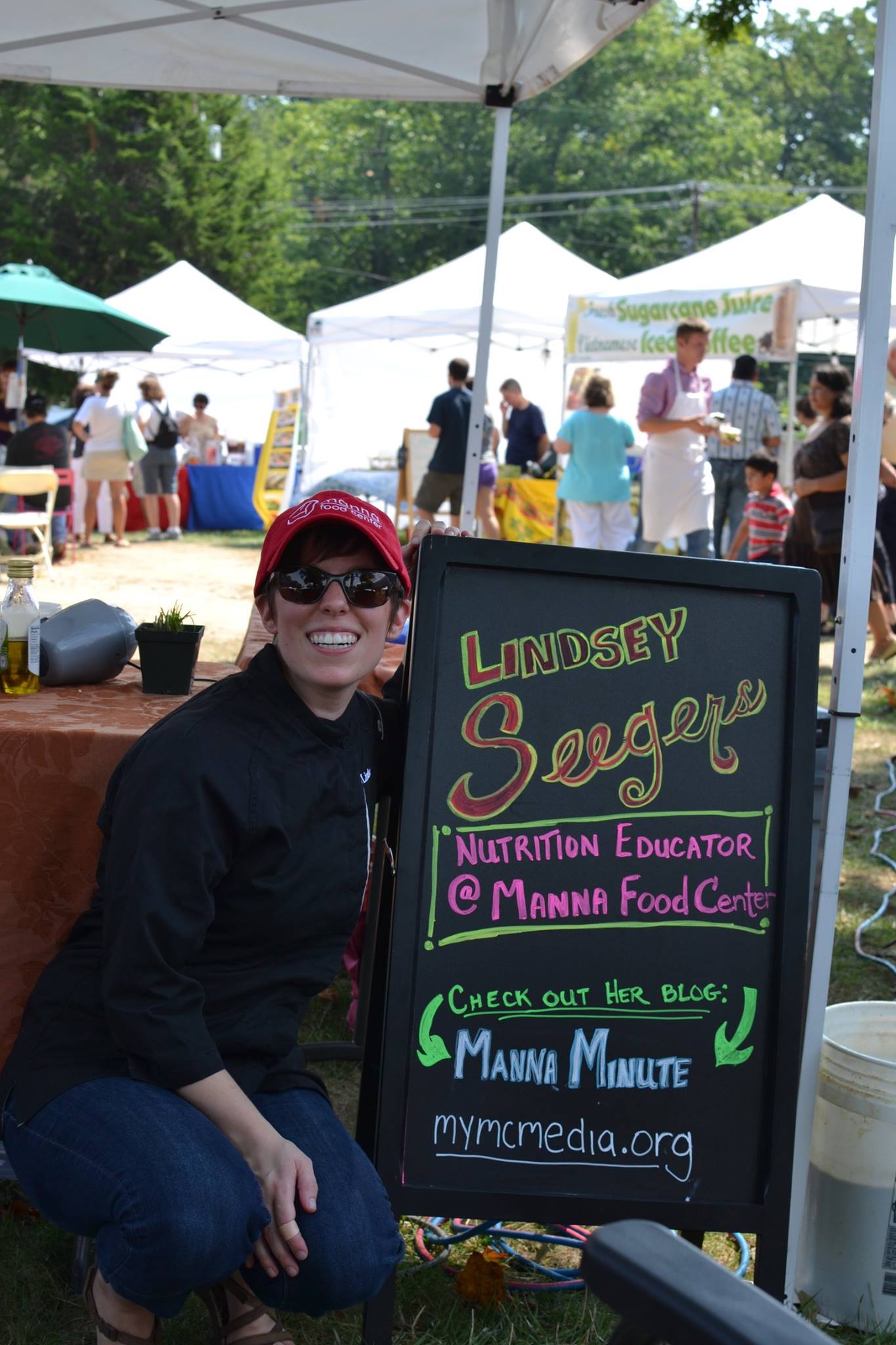 Apple-Honey Dressing to Write Home About
Manna has been operating its Farm to Food Bank program since 2010 and values its close relationship with local and regional farmers. Each weekend from May through November Manna receives unsold produce from seven Montgomery County farmers markets.  Through this initiative, known as Fresh Give, these markets provide Manna with over 20,000 pounds of fresh fruits and vegetables each month.  We partnered with three additional Montgomery County farms through our Farm Share initiative.
This past summer and fall, we took Nutrition Education on the road to cook up some thanks for the wonderful community that supports these farmers and helps Manna purchase local produce for the families we serve. It is remarkable how frequently clients express their enthusiasm for fresh peaches, eggplant, and zucchini.
I visited several markets this year to demonstrate simple ways to cook seasonal produce. I do use the word "cook" loosely, as many farmer's markets understandably lack an outdoor stove and power source. It was a fun challenge to whip up fast, no-cook dishes for shoppers to sample. Here are a few highlights from the season, along with a some recipe inspirations: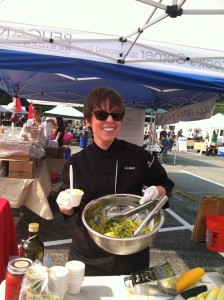 At the Pike Central Farmer's Market, I shredded zucchini on a box grate to make tender Zoodles: zucchini noodles with cilantro pesto. A smash hit, and something kids can easily make with parents.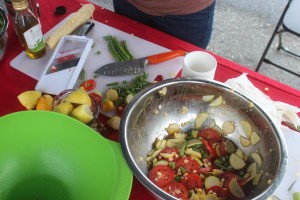 At Rockville Town Center's Salute to Nonprofits. I brought my favorite tool, an inexpensive mandolin, to slice summer squash into thin discs. Then, I tossed the squash, raw tomatoes, green beans and corn with a simple lemon-olive oil vinaigrette (salt & pepper is key)! Tasters were so surprised to learn that both corn and green beans could be so delightful raw. The color and crunch was popular with children, too.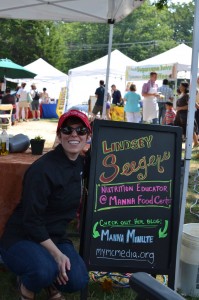 At the Olney Farmer's and Artists Market, I had a really exciting tool: power! I brought my mini food processor and whipped local feta cheese with chives, basil, and a drizzle of olive oil. Toss this cheesy sauce with cubed zucchini and you've got yourself a speedy crowd-pleaser.
Last week, Jenna (Director of Nutrition Programs) & I ventured to Clarksburg Farmers Market for a "Chopped"-style cooking competition with Chef Charlie from Whole Foods Market. It was slightly intimidating to be cooking alongside (and against!) a genuine trained chef. Thankfully, Chef Charlie was easygoing and a fast friend. He even permitted us to share his pantry items, and I can't say that Whole Foods Market Brie really hurt our chances…
Chef Charlie made veggie quesadillas with poblanos, squash, onions, and plenty of cheese.
What did I make? …that's not so straightforward.
Thankfully, this market had a gas burner. I brought my trusty mandolin to cook those sliced root veggies as quick as possible. We caramelized shallots in butter, then tossed in the sliced sweet potatoes and apples. This turned into a last-minute Harvest Medley crostini topping, so I chopped the mixture into finer pieces after it was cooked. Then sprinkled with allspice and ginger. Quite out of order, but this is Cooking Under Pressure Without a Plan, you understand.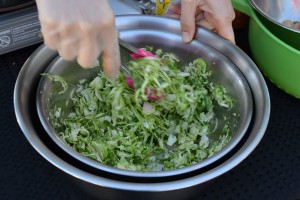 The best part was our Brussels sprout salad with toasted walnuts. Simple, simple, simple, but surely the biggest conversation starter: What's In That Dressing?!?!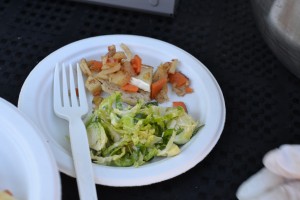 Here it is, folks, a little 4-ingredient magic.
Are you ready?
2 tablespoons honey
1/3 cup apple cider vinegar
3 tablespoons olive oil
coarse salt and freshly ground pepper
Whisk the dickens out of it, taste to balance the sweet and tangy, and adjust from there. Salt and pepper is really the trick. Toss with raw, thinly sliced Brussels sprouts, dried cherries and toasted walnuts. This is making my Thanksgiving table.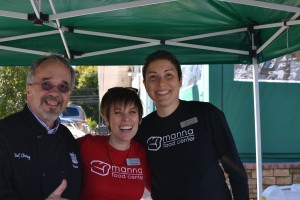 According to the tokens, it was a tie—making the entire day a double win: we supported local agriculture while providing healthy food to those we serve.
We came. We cooked. We ate our vegetables.
Everyone's a winner.