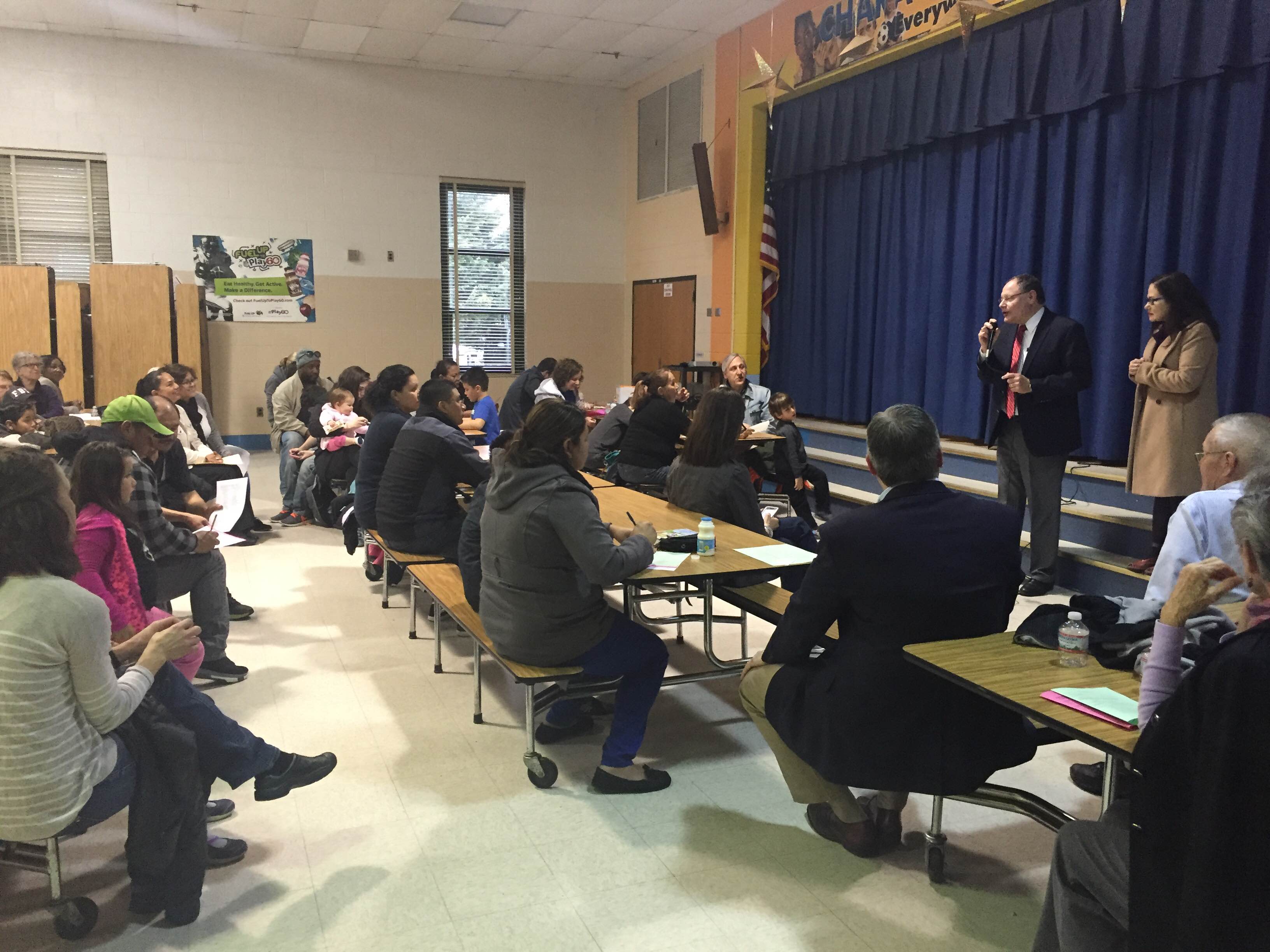 Action in Montgomery Advocates for After School Programs (PHOTOS)
Over 200 people turned out for a meeting at Gaithersburg Elementary School on Monday night to discuss funding for the Child First after school program. Gaithersburg Mayor Jud Ashman and Montgomery County Councilmember Sidney Katz attended the meeting to hear concerns from parents and advocates.
Child First is an initiative organized by AIM, Montgomery County Public Schools (MCPS) and the Recreation Department that would provide affordable high quality access to after school programs for children in need.
If funding is secured, the Child First program would be implemented at Burnt Mills Elementary, South Lake Elementary and Gaithersburg Elementary Schools in 2017, according to a news release from Action in Montgomery (AIM). Parents, residents and AIM officials are advocating for funding of the program from the County Executive and County Council.
Montgomery County Executive Ike Leggett released his proposed Fiscal Year 2017 budget on March 15 which includes funding for the Child First program at Burnt Mills Elementary and South Lake Elementary Schools.
Randy Lord-Wilkenson is a reverend at Episcopal Church of the Ascension in Gaithersburg.
"The AIM congregations have been involved because we care deeply about education, and making sure that all children have full opportunities for a good education in and out of school," Lord-Wilkenson said.
Councilmember Katz said "I absolutely support funding for Child First in the budget," but he also noted that other Councilmembers would have to support the initiative for it to move forward.
Members of AIM and the community plan on attending upcoming Council hearings on the budget planned for this spring to advocate for funding of Child First.
Nancy McDonald Ladd is the co-chair of AIM.
"AIM thanks County Executive Leggett for his leadership on bridging the achievement and opportunity gaps in our schools. We are pleased his budget includes funding to start Child First, and expansion of the successful Excel Beyond the Bell Program," Ladd said in a statement released on Tuesday.
8 yr old Foday brings down the house talking about why he and his classmates want Child First at their school. pic.twitter.com/xJv1FJrG6u

— Action In Montgomery (@AIMforPower) March 14, 2016
Councilmember Katz absolutely supports Child First and looks forward to seeing Gaithersburg ES at the County Council pic.twitter.com/SllCVg9CB9

— Action In Montgomery (@AIMforPower) March 14, 2016