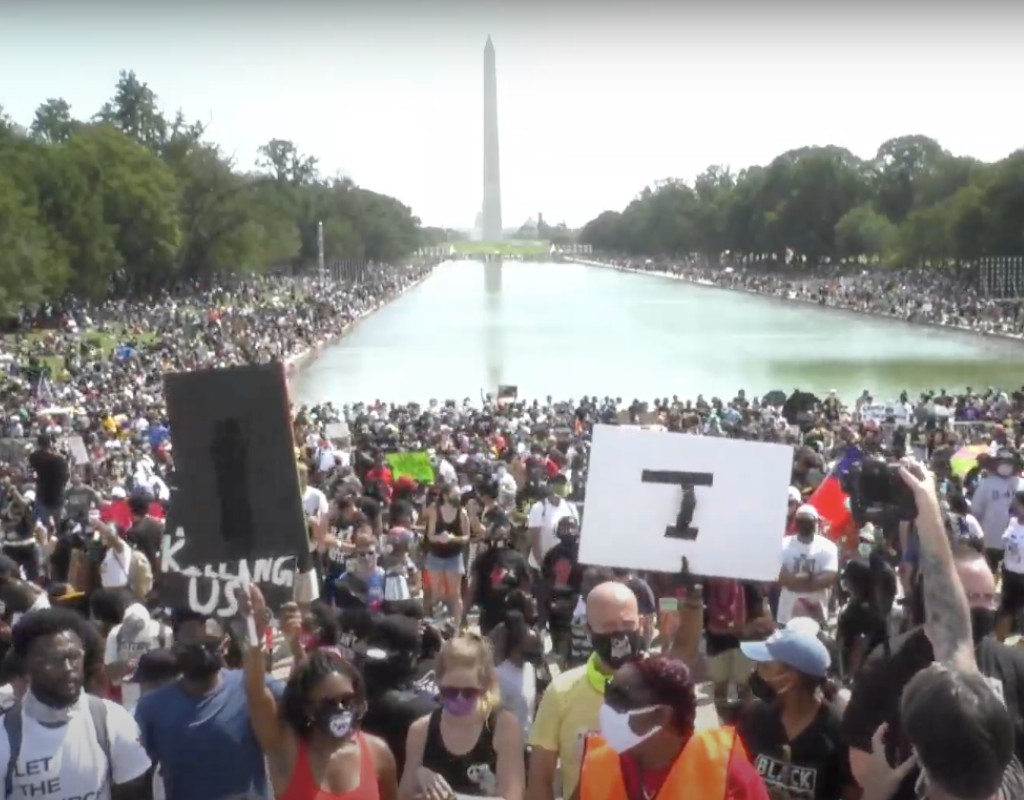 57 Years Later, 'Get Your Knee Off Our Necks' March on Washington Kicks Off
Protesters continuing to push for racial justice took to the National Mall Friday for the March on Washington.
Friday marked the 57th anniversary of a seminal moment in Civil Rights history.
On Aug. 28, 1963, Martin Luther King, Jr. led the march to demand civil rights for Black people. It was there he delivered his iconic "I Have a Dream" speech.
Protesters gathered at the Lincoln Memorial Friday morning, and the plan is to march to the Martin Luther King, Jr. Memorial, according to The Washington Post. Tweets from those at the rally show COVID-19 precautions in place like temperature checks and hand sanitizer.
Rev. Al Sharpton and Martin Luther King, III will speak at the rally, which is being called the "Get Your Knee Off Our Necks" march, a reference to George Floyd's killing in Minneapolis in May. Floyd, a Black man, was killed by Police Officer Derek Chauvin, after Chauvin held his knee on Floyd's neck for almost nine minutes. Floyd was accused of using a counterfeit $20 bill at a grocery store, which prompted the call to police. Witness footage of the incident went viral, sparking outrage among protestors who demanded justice for Floyd and other black Americans who have been victims of racism and police brutality.
On Sunday, Jacob Blake, a Black man, was captured on video being shot seven times by Kenosha, Wisconsin Police Officer Rusten Sheskey. Cellphone footage went viral in this incident as well, reigniting Black Lives Matter dialogue and protests.
Crowds pouring into then national mall. #MOW2020 pic.twitter.com/wlXsDtyjg3

— Matt Gregory (@MattGregoryNews) August 28, 2020
The line to get into today's "Get Your Knee Off Our Necks" Commitment March on Washington stretches way down Constitution Ave #MarchOnWashington @NBCNews pic.twitter.com/07DMpMkjA9

— Kyle Stewart (@KyleAlexStewart) August 28, 2020
Good morning from the National Mall where the line for the March on Washington is a sight to behold. Mandatory temp checks mean thousands are being bottlenecked waiting to get in.

Filming this took a short hike, seems people are joining faster than they're able to scan. pic.twitter.com/fE0uiF2QHs

— Alejandro Alvarez (@aletweetsnews) August 28, 2020
Folks are crowding onto the National Mall lawn to listen to speakers.

Passed volunteers giving temperature checks at the entrance. #MarchOnWashington #equalitymatters #beHeard @wusa9 @NationalAction pic.twitter.com/o6OY2IMh3p

— Jess Arnold (@JessArnoldTV) August 28, 2020
Temperature checks. Wrist bands. Free hand sanitizer. Here's what it takes to get into #MarchOnWashington #MarchOnWashington2020 @wusa9 pic.twitter.com/1Zug03KqN0

— Eric Flack (@EricFlackTV) August 28, 2020
Good morning from the National Action Network's "Get your knee off our necks" commitment march. Tens of thousands are expected to rally and march for justice and racial equality. pic.twitter.com/typzSfICdM

— Garrett Haake (@GarrettHaake) August 28, 2020
People are descending on the Lincoln Memorial and reflecting pool areas of the National Mall for the "Get Your Knee Off Our Necks" march organized by the @NationalAction Network.

The March coincides with the 57th anniversary of the historic March on Washington. pic.twitter.com/B8RvlR9DdC

— Kevin Frey (@KevinFreyTV) August 28, 2020
#marchonwashington attendees wave #blacklivesmatter flags near the Lincoln Memorial. @wamu885 @DCist @NPR pic.twitter.com/itBjAWBR1c

— Tyrone Turner (@tyronefoto) August 28, 2020