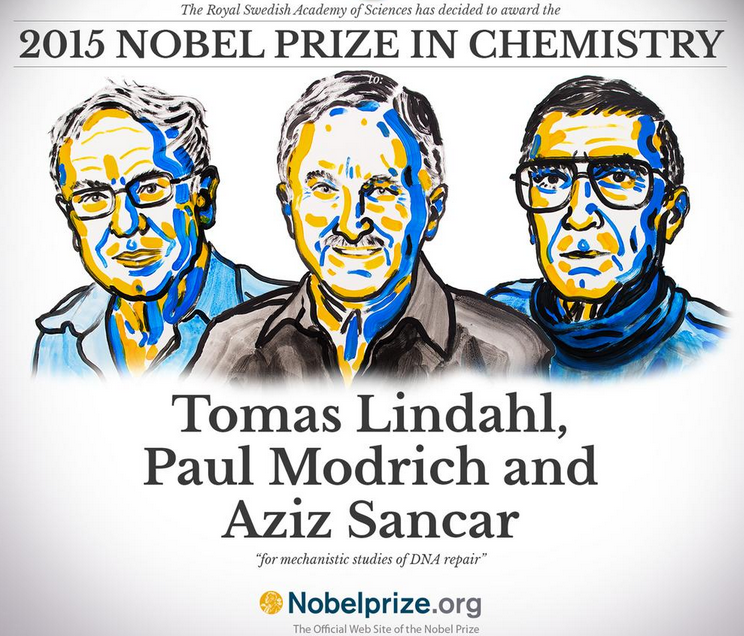 2015 Nobel Prize in Chemistry Goes to NIH Grantees
National Institute of Health (NIH) grantees received the 2015 Nobel Prize in chemistry.
Paul Modrich, of the Howard Hughes Medical Institute and the Duke University School of Medicine, and Aziz Sancar, of the University of North Carolina, received the award for their work on "mapping, at a molecular level, how cells repair damaged DNA and safeguard the genetic information."
NIH's National Institute of General Medical Sciences funded their research.
The official Nobel Prize website also notes a third recipient, Tomas Lindahl, affiliated with the Francis Crick Institute and Clare Hall Laboratory, both in the U.K.
Announcement of the 2015 #NobelPrize in Chemistry http://t.co/yzoGKjKsng

— The Nobel Prize (@NobelPrize) October 7, 2015
"This basic understanding about cell function has led to the discovery of the causes of genetic conditions associated with cancer and is being used to develop new cancer treatments. NIH is proud to have supported this work," NIH Director Francis S. Collins said in a statement.
According to a news release, the Royal Swedish Academy of Sciences said their work on DNA repair "has provided fundamental knowledge of how a living cell functions."
NIH is the nation's medical research agency located in Bethesda that includes 27 institutes and centers part of the U.S. Department of Health and Human Services.
BREAKING NEWS The 2015 #NobelPrize in Chemistry is awarded to Tomas Lindahl, Paul Modrich and Aziz Sancar: pic.twitter.com/mlgE5R2ZFc

— The Nobel Prize (@NobelPrize) October 7, 2015
LISTEN: #UNC's Aziz Sancar tells http://t.co/Lo8xpcCtfz a/b winning #NobelPrize in Chemistry http://t.co/oC4Iew5SlK pic.twitter.com/nAofL3UPia

— UNC-Chapel Hill (@UNC) October 7, 2015
#NobelPrize 2015 Chemistry Laureate Aziz Sancar has mapped the mechanism that cells use to repair UV damage to DNA: pic.twitter.com/yuNrYFWJPg

— The Nobel Prize (@NobelPrize) October 7, 2015