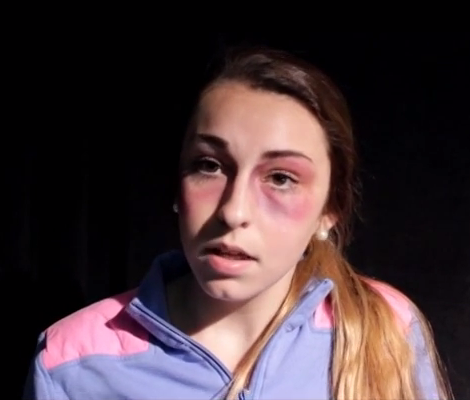 Local Teens Win Choose Respect Public Service Announcement Contest (VIDEO)
Five Montgomery County students won prizes for their public service announcements at the sixth annual Choose Respect Conference.
Dozens of students from local Montgomery County high schools produced public service announcements bringing attention to the dangers of dating abuse. Cash awards, donated by Verizon Wireless, were presented to the five winning entries at the sixth annual Choose Respect Conference, held March 8.
Parents, teens, youth service providers and others gathered at the conference to discuss problems around teen dating violence and ways to establish healthy relationships. The focus of Choose Respect was the positive use of technology and social media.
First Place—"Bruises," from Blake High School: McCallah Ott, Frankie Hedgepeth, Josh Trejos and Kristen Savary.
Second Place— " Out of the Dark," from Blake High School, Nate Steinman, Matt Majower and Wyatt McInturff
Third Place— "Locked," from Blake High School, Haley Gill, Maya Eaglin and Kathryn Brown.
Honorable Mentions—"There's No Excuse," from Sherwood High School, Rebecca Phillip and "It Has to End," from Blake High School, Julian Martin-Poteet, Josh Jones and Leah Hollingsworth.
New this year was a pre-conference Red Carpet, where attendees were given the opportunity to take selfies, use the hashtag #respectyourselfie2015, and tweet information about the event and what they learned in real time. Sponsors of the conference included Verizon Wireless, Montgomery College, zoomph, Montgomery County Family Justice Center Foundation and AWARE.
According to the Department of Education nearly 1.5 million high school students nationwide experience physical abuse from a dating partner in a single year and one in three adolescents in the U.S. is a victim of physical, sexual, emotional or verbal abuse from a dating partner, a figure that far exceeds rates of other types of youth violence.
"The sixth annual Choose Respect Montgomery safe teen dating conference was a resounding success. Reaching teens and their parents to help prevent behaviors which can be dangerous and detrimental to the health and well being of young people is an important endeavor. Kudos to the Montgomery County Domestic Violence Coordinating Council and the Family Justice Center Foundation," said State's Attorney John McCarthy.